22Oct Open House at Faulkner House, and an Honor for NVWG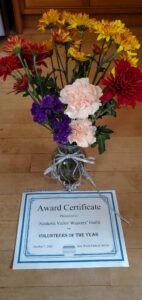 Earlier this month, the kind folks at Iron Work Farm (of which Faulkner House is a part) bestowed honors upon our Guild, naming us the 2023 Volunteers of the Year!  We all have so much fun doing our demos there that it seems a little sinful to be acknowledged for it.  I guess that proves that community outreach can be rewarding on many, many levels!  We are very grateful that Iron Work Farm and the Faulkner House are so appreciative of our playtime!
Care to join us?  The final Open House of the year will be held this Sunday (22Oct) from 3-5pm.  The address is 5 High St, Acton MA.  NVWG members are invited to weave, spin, knit, or do any other type of fiber art demo…or just come to check things out!  It's a very cool early 1700's house with a rich history.  Contact Laura (laura@northbrookalpacas.com) for more details.