December 2023 Guild Meeting – Visible Mending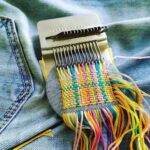 France has launched an initiative to combat clothing waste, subsidizing the repair of shoes and clothes on the verge of becoming unusable instead of throwing them away. Are you ready to follow suit? A so-called "darning loom" is the latest gadget in the fiber community, enabling clever consumers to repair their own clothing with "visible mending". This inexpensive device holds your knit or woven fabric under tension and provides an anchor for warp threads while you weave a patch. The downside to the ingenious little loom is the lack of instructions in the package when you purchase them. Here's your opportunity to learn how to use it to weave a patch that is functional – repairing a real hole – or just decorative.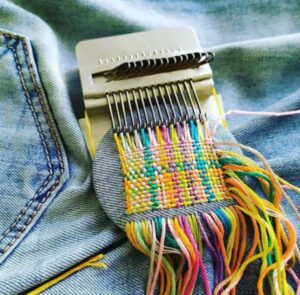 Our Nov/Dec meeting will be held on Tuesday 5 December, starting at 1pm at the Congregational Church in Harvard. The program is a hands-on activity to learn to mend or darn holes in fabrics using the trendy "Speedweve" looms. If you do not have a little loom and did not pre-order one, they can be purchased online. This is the one we are purchasing for the group order, but you can get any variation or size that you prefer. Those who do not wish to participate in the mending are welcome to come just to see what's happening and enjoy an afternoon together!
What's happening at the meeting?
1:00 Social time and library browsing
1:30 Announcements and Show & Tell
2:00 Begin the mending! The activity will be led by the Weavers' Study Group that meets on Tuesdays at The Fiber Loft.
4:00 Be done and cleaned up
What to bring:
A couple articles of woven or knit clothing in need of small (not larger than 1" square) mending. Examples of items might be jeans, sweaters or jackets, but other items can also be repaired. For practice, a plain scrap of fabric can also be used.
Bits of smooth yarn – commercial or handspun – to create decorative patches. Embroidery floss, or 5/2 or 10/2 mercerized cotton works well, but feel free to be creative!
Tapestry needle (one also comes with the loom)
Scissors
Glasses or magnifiers
$5 co-pay if you pre-ordered a loom
Or bring your own loom