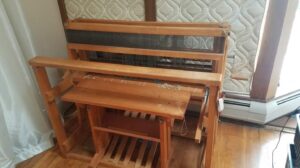 36" Schacht 4-harness low-castle floor loom in maple; complete with Schacht bench and one 12 dent carbon reed.  Approximately  550 flat steel heddles.
Pricing the set at a highly-competitive $1500.00. 
Pick-up in Boxborough, MA. Local delivery may be possible.
Safe viewing:  loom is located in a well-ventilated room with direct access to the outdoors.
Please e-mail loom20200826@nvwg.org if you are interested.  
All proceeds will be added to NVWG's Pauline Duke Educational Fund. The Fund was originally set up through a "pay-it-forward" donation by Dawn Forde from the sale of a loom given to her by Pauline.  The fund has been used for various outreach and educational programs, including payment of guest speakers, purchase of workshop supplies, and the screening of "Yarn, the Movie".