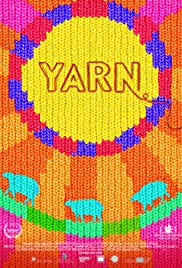 Did you know that we have the DVD of "Yarn" available in our library? 'Tis true! A few years ago, the Guild sponsored a screening of the movie at the Harvard Library. It was open to the public, and it generated much interest from locals.  As part of the licensing agreement, we are permitted to have the DVD in our Guild library to lend to members. According to imdb, the documentary reveals how "international artists and knitters take a simple skein of yarn to create their extraordinary ideas and stories."  Calling it a documentary makes it sound serious, but it really is a fun movie to watch, if you're into yarn!
If you'd like to borrow the DVD, you can contact Kathy, our multi-talented librarian, to arrange a socially distanced pickup. Alternatively, you can stream the movie through a link on its imdb listing for a small fee.
By the way, you can view everything in library by clicking the LIBRARY tab above!