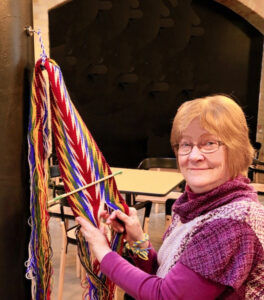 What is sprang? How exactly does it work, what evidence do we have of sprang in the past, and what can you do with it today?
Carol James, aka The Sprang Lady, will be joining us live (on Zoom) from Manitoba, Canada for our regular meeting at 7 p.m. on Tuesday 26 January 2021 to answer these questions.
We begin with simple definitions and live demonstrations to help you understand how every row of work yields two rows of cloth. A variety of stitches lend themselves to this type of work, some even look like woven cloth. Diverse  techniques transform simple rectangles into hats, socks, mittens, vests and more. We will see this played out in a series of images of sprang through history. The presentation offers photos of actual sprang artefacts, ancient artwork, and Carol's sprang replicas taking us from the bronze age to present.
The presentation finishes will focus on ways to make sprang shirts. The ancient Persians and pre-Columbian Americans made shirts, so why shouldn't we? History suggests a variety of approaches. Trial-and-error suggest a few more. Carol has made more than 20 sprang shirts, and shares what she has learned.
For more information on Carol and her work, see https://www.spranglady.com/.
If you are not a Guild member and wish to visit, please email Chair@nvwg.org to request the link to the Zoom meeting.