October 22nd Meeting, Painted Warp Challenge!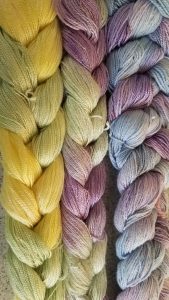 Our program for Tuesday evening Oct 22 will be to paint some warps.
This will be a hands-on program and you must have your own warps.
Warp must be wool, other *animal* fiber, or silk.  Warp should be white
or another *light* color to be "painted".
Warp MUST be at The Fiber Loft by 4:30 pm on Monday Oct 21.  (The warps
must be soaked in a mordant–citric acid or vinegar–before we can paint
them.  Suzanne will do this on Tuesday.)
If you cannot make the meeting, drop your warp off on time to The Fiber
Loft and we will paint it for you.  (We are not sure what colors will be
there, we will use our best judgement!)
Warp MUST have a waterproof label with individual's name on it when it
goes to the Fiber Loft. NVWG will provide labels and a waterproof marker
at the Fiber Loft so you can label your warp when you drop it off.
Warp size – no longer than 4 yards, no wider than 24"
This is hand painted, not dipped.
Suzanne will provide bottles of dye.  We will put warp on plastic wrap
and paint, and then wrap up and take home and microwave.
If, after everyone has finished painting their first warp, there is dye
and time left, you can paint a second warp, but not before we are done
with all the first warps.
If you have any questions about the correct yarn, or you need some yarn,
call Suzanne at the Fiber Loft (978-456-8669 or yarn@thefiberloft.com)
for purchase.
We will be using these warps for this year's Guild Challenge.
If you want to be part of the Challenge but cannot get your warp to the
Fiber Loft by Monday, and cannot make the meeting Tuesday, please let me
know – Leslie programs@nvwg.org
See you Tuesday.  Social/library time begins at 7pm.  Meeting to follow at 7:30.