Meeting Reminder, 05Dec at 1PM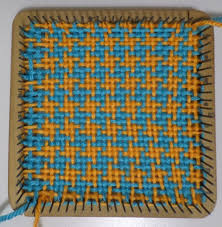 Our next meeting will be held on Tues, 05December at 1pm.  Note: This is an afternoon meeting, and on the 1st Tues of the month rather than the 4th!
Our program for this special afternoon meeting will be "Pin Looms".  In this hands on meeting, we will review how to weave on a pin loom and discuss various things to do with those little squares once they come off the loom.
What to bring:
-Any pin looms you have (we have a handful that we can loan out, if you don't own one)
-Small amounts of yarn in any weight or color you'd like.  Pin looms typically use less than 17 yards to make each square, so leftover balls of yarn are perfect to use.
-Scissors
This should be a very fun afternoon of weaving, and we look forward to seeing everyone there!