24 October meeting reminder and Guild Challenge!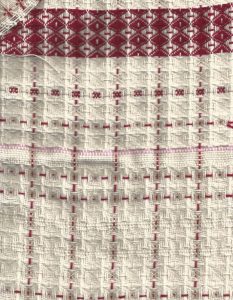 Almost half of our members have had a fantastic week at the weave structure workshop!  Our meeting on Tues will be a workshop wrap-up session, where all members (even those who couldn't join the workshop) can share what we've been doing and where workshop participants can share their experiences.  Please come see the weave structures and how different everyone's samples are!
Most of the yarn used for the workshop is 6/2 unmercerized cotton in 5 colors, donated to us by the American Textile History Museum.  We have a lot of this yarn left over, and we want to share!  Our Guild Challenge this year will be to make something handwoven with this yarn.  You can draw inspiration from the various structures in the workshop, or come up with something all on your own.  The Guild will provide yarn kits to all challenge participants.  Weave something with the yarn to present at our annual potluck meeting next June.  It will be fun to see how different things are made from the same yarn!  You can pick up your kit at the meeting on Tues.  Kits will also be available at subsequent meetings.
Also, if you haven't yet paid your 2017-2018 dues, Tuesday is the deadline.  Please bring a check for $25 made out to NVWG to be sure that your membership doesn't lapse.
We hope to see everyone Tuesday evening at The Fiber Loft!  Social and libary time will begin at 7pm.  Meeting and program will begin at 7:30.