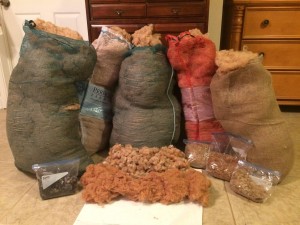 This was sent via email thru our website, so I'm passing it along.  Even if you don't spin, it sounds like an interesting project!  Read below:
Hello from North Louisiana,
I raised over 300 Louisiana Brown Cotton plants this summer. We have almost finished picking and ginning. Would you be interested in some fiber?
You can see the project on my Facebook page. ANTHONY LIONEL MULLINS. Louisiana Brown Cotton Project 2015 folder for the photos.
There is also a great new documentary about the BROWN COTTON. Here is the link…….. https://www.facebook.com/AcadianBrownCotton?fref=ts
Tony Mullins