September 2023 Guild meeting and program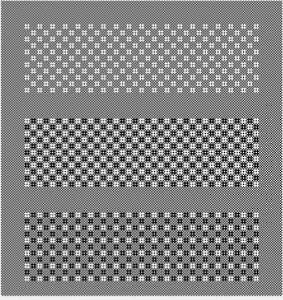 Weaving Air: A Brief Overview of Lace WeavesLaurie Autio
Lace weaves magically allow the weaver to bend the grid, creating holes to allow air and light to become part of their design. These weaves have been called plain weave with defects (Diana Frost), with floats added in one or both directions to pattern the cloth. This introductory lecture covers five loom-controlled lace weaves:  Huck, Canvas, Swedish Lace, Lace Bronson, and Spot Bronson. We'll look at how each structure works, plus setts, materials, and weaving tips. There will be a wide variety of samples and pieces to examine.
Laurie Autio began weaving in 1985 and enjoys all parts of weaving, particularly figuring out how design and structure work and can be pushed. Music, crystallography, nature, and study of Japanese textiles influence her design work and lace weaves are a passion. Her weaving education includes a Master Weaver Certificate from Hill Institute (2000), serving as Coordinator of Study Groups for Complex Weavers (1998-2001), and a large library. Laurie began teaching around 1993 for various guilds, NEWS, Convergence, and Complex Weavers. In recent years she has run a four-year class called Explorations in Advanced Weaving and is slowly learning about Jacquard weaving. Laurie has served as President of Complex Weavers, Dean of Weavers Guild of Boston, President of Weavers of Western Mass., and Chair of Pioneer Valley Weavers. She enjoys writing, was co-editor of Interlaced (Weavers Guild of Boston, 2012) and editor of Eight Shafts: Beyond the Beginning, Personal Approaches to Design (Complex Weavers, 2022).
Where: Congregational Church of Harvard, 5 Still River Rd., Harvard, MA
When: Tuesday 26 September, 7 p.m.
The meeting starts with socializing, snacks, and browsing the library. The formal meeting and presentation begin at 7:30. This presentation will be educational for all Guild members, whether participating in the October Lace Workshop or not.