NVWG Meeting September 28, 2021 at 7:00 PM
NVWG Meeting
NVWG Meeting September 28, 2021 at 7:00 PM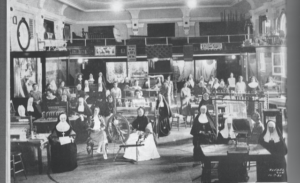 Oscar Beriau and the Canadian Handicraft Revival.
On Tuesday, September 28, 2021, Mary Underwood, Front Porch Textiles will be the featured speaker for the NVWG meeting. Oscar Beriau and his contributions to the revival of weaving in Canada during the 1930s and 1940s is the subject of Mary's presentation. Mary is in the process of writing a book on Beriau and his contributions to the weaving community and no recording of this presentation is allowed per agreement with her publisher.
This meeting will be a hybrid of in-person and Zoom. The business meeting will begin at 7:00 PM and our speaker is scheduled to start via Zoom at about 7:30 PM. The in-person meeting will be at the Congregational Church of Harvard, 5 Still River Road, Harvard, MA. This is right next to the Harvard General Store, and right across from the Harvard Common.   The meeting room is on the second floor.  There is an elevator.
Masks are required in all hallways, entries, the elevator, bathrooms, etc. Masks in the meeting room if unvaccinated, or as comfort level dictates.