October meeting: Shibori: An Ancient Textile Tradition of Infinite Possibilities (via Zoom)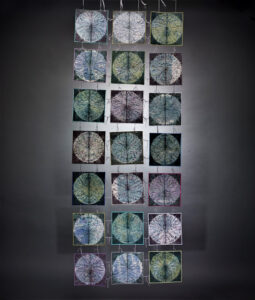 October 27, 2020 7:00 PM (via Zoom, meeting link will be emailed to members)
Members, please join us for our October meeting.  Local art quilter Ann Ribbens will talk about the multi-faceted world of shibori. While she often uses it in whole cloth quilts, there are many applications, including woven shibori. Ann's comments will cover the definition of shibori, highlight several techniques and show samples from amazing artists as well as some of her own work.
---
Artist Statement
Ann Ribbens
I moved to Berlin, MA, in April, 2018. I am a transplant from Minnesota where I lived for over 20 years. My husband, A.J. Moses, and I are "trailing grandparents" in that we followed our daughter and granddaughter to Massachusetts when our daughter got a new job.
I have always been interested in quilting. I come from many generations of women who made fantastically beautiful quilts. They were Midwestern farm women with great sensibilities for color and pattern. Of course, they used scraps because that's what was available to them during the late 1800s and the first half of the 20th century. Little girls' dresses and men's suits alike found new lives in these wonderful quilts. I have 14 heirloom quilts that were made between 1880 and the 1930s. Most are works of art from my grandmother and her cousin.
I have been making quilts since 1985. In the mid-90s, I abandoned making traditional quilts. I joined Minnesota Contemporary Quilters and found a whole new artistic outlet. I've experimented with various media including using trims, dyeing my own fabrics and embellishing my work with hand embroidery.
I deploy a wide range of surface design techniques in my contemporary quilts. I seek to provide rich visual details while giving the viewer a "wide angle" view. I work in small formats, or "wall quilts."
These days, I work primarily with shibori (a Japanese tie dye technique) and deconstructed screen printing. For several years, I've been successful combining the two techniques to get outcomes that I'd hoped for.
My work is both representational and abstract. I have focused on several themes in recent years: memory, environmental issues and women's relationships to their bodies.
My work has been exhibited at the Mosesian Art Center in Watertown, MA, the Brush Gallery and the Loading Dock Gallery in Lowell, MA, the Schweinfurth Museum in Auburn, NY, Gallery One in Ellensburg, WA, The Wickford Art Association, North Kingstown, RI, the Minnesota State Fair and several venues in Minneapolis/St. Paul. My art quilts have also appeared in books and in textile magazines including the Surface Design Journal.