Guild Demos at the Faulkner House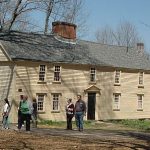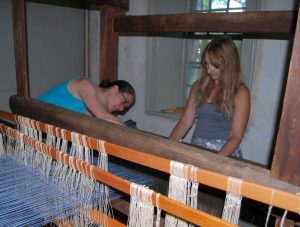 The people at Iron Works Farm in Acton and the Faulkner Homestead have invited us to demonstrate again at their open houses this year.  Members of the Guild have spent time over the past couple years getting their barn frame loom up and running. When there, we interact with the public while weaving or spinning. We're looking for people to sign up for the following events:
Patriot's Day, Sunday 4/15/18, 1-4 pm – This is a busy day at the House, with lots of visitors. They feed volunteers an early supper, and then watch the Acton Minutemen's Robbins Ride re-enactment at 5:30. So far, we have 3 people signed up (Leslie spinning, Andrew and Penny weaving.)
Freedom's Way Hidden Treasures at the Faulkner House, Sunday 5/27/18, 3-5 pm – This event is specifically to highlight the barn frame loom at the Faulkner House. Being set up with Freedom's Way Hidden Treasures, this will get lot of visitors from around the region. (Leslie, Krista and Penny are signed up so far.)
Other open house dates:
Sunday 6/24/18, 3-5 pm
Sunday 7/22/18, 3-5 pm
Sunday 9/23/18, 3-5 pm
Acton Open Studios, Saturday/Sunday 10/14 & 15, hours TBD
We'd like for many Guild members to become involved with this over the coming months. If you're interested, please email Penny.