Annual Meeting and Potluck, Tuesday, June 29, 2021 6:00 PM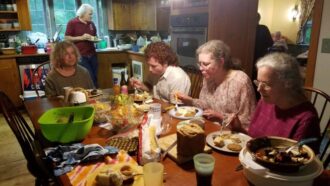 Postponed due to weather!
We are happy to announce that our annual potluck picnic will be happening on Tuesday, June 22, 2021, at 6:00 PM. Rain date Tuesday, June 29, 2021. It's actually a BYOP (Bring Your Own  Picnic), not a potluck as you will need to bring whatever you want to eat and drink.
We will have the NVWG Annual Meeting during the event and a " show and tell and touch" of our 2021 Guild Challenge pieces–something woven from stash yarns–that stuff that threatens to take over every square inch of floor space available and that will outlive us.
There will be a yarn and equipment sale from the Pauline Duke donation, for sale to members at the picnic. Small items will be available on-site and photos of the larger items will be provided for you to view. Cash or check only–NO credit or debit cards will be accepted.
For additional information email chair@nvwg.org.
You will need to bring:
your own food, beverage, and utensils
your stash buster Guild Challenge piece
cash or check for the yarn/equipment sale
Note: Those who are not vaccinated are asked to wear a mask at all times except when eating. Vaccinated people may do as they wish when socially distancing.