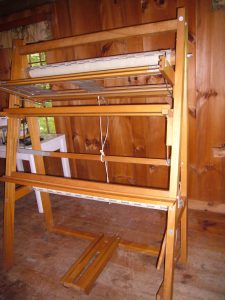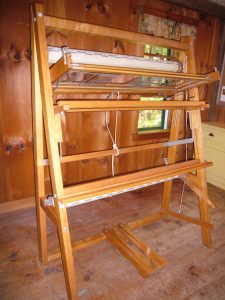 LeClerc 45" Tissart tapestry loom.  1970s upright loom with 2 shafts, rotating warp and cloth beams controlled by ratchets, and a movable beater with up/down action.  The Tissart was called the "loom for artists" because the weaver can stand or sit in front of it and view the vertical weaving as s/he works.  LeClerc no longer makes this loom, but their vertical Gobelin tapestry loom costs upward of $3000.  This Tissart could use a new canvas apron, but other than that it's intact.  It comes with two reeds, one 8 per inch and one 12.  $900.   (H=69 ¼", W=52 ¾", D at base=26")
Warping board.  This frame, measuring 20 ½ " by 37 ¼ ", with movable pegs, can be yours for $40.
Assorted weaving supplies: cards, lease sticks, belt loom, 2 rigid heddles.  If you teach weaving classes or simply wish to do some 2-harness weaving yourself, you may want to consider adding these items to your stash of supplies.  $75 for the lot.
Contact Susan directly at  srashidhorn@gmail.com